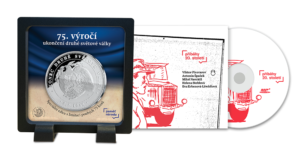 Narodni Pokladnice – Czech branch of Samlerhuset Group and organisation Post Bellum commemorating "unknown heroes" of The Second World War.
Most of us have been having a hard time in recent months. We take care of ourselves, our loved ones and try to keep the situation around coronavirus as small as possible. But even in these difficult times we should not forget those who helped us to live in peace and democracy.
The planet's deadliest conflict ended 75 years ago
The celebrations of the end of the Second World War took place more intimately than usual and people watch documentaries or listen to speeches muted by masks. However, only a few countries could celebrate the peace as it should.
They already teach us in schools: Do you not want to repeat the mistakes of the past? Get to know the history! So hardly anybody enjoy memorizing data and places where historical breakthroughs have taken placed.
Stories of unknown heroes
What really works are stories, certainly the best authentic testimonies of witnesses of their time. Samlerhuset branches telling the stories by their coins and medals and Post Bellum by Memory of Nations, one of Europe's most extensive collections of life stories. The database contains testimonies of witnesses who survived the two totalitarian regimes – nazism and communism. Moreover, the stories illustrate how these regimes impacted individual lives. The archive is accessible to all visitors of the Memory of Nations portal and the stories of witnesses are based on audio or video recordings of their recollections.
Commemorative medal
The goal of Narodni Pokladnice and Post Bellum coincides, so they have prepared a common set for numismat lovers. Customers were able to purchase a beautiful silver commemorative medal, issued to celebrate the end of the war,  moreover they receive a CD with stories of witnesses. The audio recordings include also interviews with the founders of Post Bellum. The set was limited to 75 pieces and part of the proceeds from the sale was donated to expand the Memory of the Nation Library.
The interest of the Czech public was huge and the set was sold out in just a few days. Thank you for helping! And don't forget to help all the heroes of today. A smile or thanks is sometimes enough.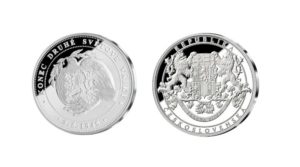 Visit Post Bellum website: https://www.postbellum.cz/english/
More about Narodni Pokladnice: https://samlerhuset.com/narodni-pokladnice/