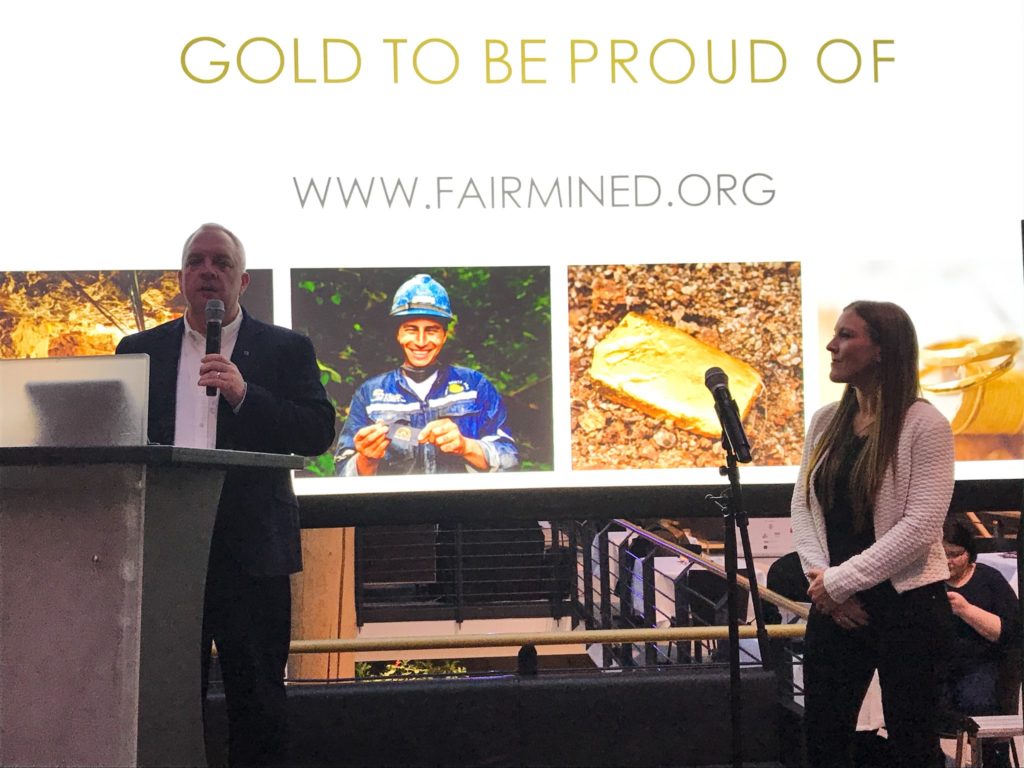 The world's largest numismatic fair was held in Berlin. One of the highlights of the World Money Fair was the reception organised by Samlerhuset Group, the main shareholder of the event.  
Samlerhuset CEO Greg Prosser summed up the year 2019 emphasising the importance of trust, respect, innovation, and quality for the company's operation. He also announced the development of a range of historical coins in the coming years. 
Gold we can be proud of
Conny Havel of the Alliance for Responsible Mining talked about the Fairmined Gold initiative, which supports small mines from the poorest regions of the world. She stressed that thanks to the involvement of numismatic and jewellery companies in the initiative, many mines have begun mining gold with respect for human rights and environmental protection, as well as contributing to local communities. 
"The fair price for gold that the artisanal mines receive allows them to be included in safe and fair trade," stressed Conny Havel.   
Samlerhuset also supports the Alliance's activities for Responsible Mining by offering numismatic items made of the precious metal from mines that have been Fairmined Gold certified. Interestingly, the Mint of Norway, owned by Samlerhuset, mints the Nobel Peace Prize medal from this gold.  
Warsaw to become the capital of world numismatics
Anna Zapolska, secretary of the Congress organisation committee, has invited all those interested in the subject to the 16th International Numismatic Congress, to be held in September 2021 in Warsaw. The event will attract archaeologists, historians, numismatists, museum employees, coin collection curators, representatives of auction houses, and collectors from all over the world. The Congress is held only every six years under the auspices of the International Numismatic Council. In 2021, the main organiser of the Congress will be the University of Warsaw, with Samlerhuset taking pride in acting as the main sponsor of the Congress.  
The Numismatic Congress, to be held for the first time in one of the countries of Central and Eastern Europe,   will be an excellent opportunity to discuss the state of contemporary numismatics. While attending the Congress, you will also have an opportunity to see very interesting numismatic exhibitions at the National Museum, the Royal Castle, and the University of Warsaw. – said Anna Zapolska. 
Numismatists
'
 weekend in Berlin
This year's World Money Fair (held January 31 – February 2) attracted hundreds of exhibitors and over a dozen or so thousand visitors. This year, the honorary guest of the WMF was the Mint of Japan. 
We believe that the World Money Fair is of great importance for the numismatic industry. The annual meeting allows us to exchange experiences, learn from each other, and develop our passion for collecting – said Greg Prosser.  
Thanks to the involvement of Samlerhuset, the largest shareholder, the fair is one of the most important events in the world of numismatics. I'm happy that my work is continued – said Albert M. Beck, founder, former owner, and now Honorary President of the World Money Fair at the reception.