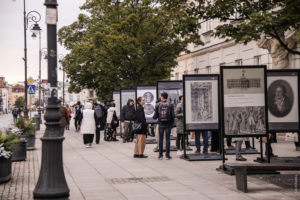 The 16th International Numismatic Congress takes place in Warsaw from 11th to 16th September 2022. The event has attracted scholars, archaeologists, historians, numismatists, curators of coin cabinets, auction houses, collectors, and dealers from five continents.
The Samlerhuset Group is next to Fritz Rudolf Künker GmbH one of the main sponsors of the event. It is possible thanks to the cooperation with the University of Warsaw (the main organizer of the Congress). We take the opportunity to talk about noble initiatives that make the world a better place. We are sharing information about our cooperation with Fairmined Gold, and Humanium Metal and we are displaying the replica of the Nobel Peace Prize Medal at the Congress.
The Numismatic Congress is primarily scientific. The main goal is to share the newest discoveries and research results with the international community. The speakers will focus on Antiquity and the Middle Ages. There will also be lectures on the history of collecting, numismatic finds (including coins recently recovered from shipwrecks). Several sessions and panel discussions will be dedicated to digital numismatics, online databases, digitization, and digital image identification. The Congress is an opportunity to meet and network with representatives of the numismatics from all over the world.
It is the first Congress in Central East Europe after the Second World War. Paris, Rome, New York – Washington, Bern, London, Brussels, Berlin, Madrid, Glasgow, and Taormina hosted the event in the past. The Congress takes place every six or seven years.
Activities in the International Numismatic Congress 2022
The Congress creates a policy for the promotion, conservation, and valorization of material and immaterial Cultural Heritage. It is a unique opportunity to reflect on the state of modern numismatics and the challenges it faces. It also creates a chance for all participants to share their passion, make fruitful contacts and initiate projects.
Exhibitions
The International Numismatic congress will last for five days of lectures, poster sessions, and discussions. Participants are talking about the conservation of coins, digitization, and promotion of numismatics. Moreover, organizers invite to interesting exhibitions and events, such as:
Opening of the special exhibition for 100 years of the Numismatic Room at the National Museum in Warsaw
Exhibition of the Polish Numismatic Society
Exhibition "The gold collection of Andre van Bastelaer in the Royal Castle"
Open lectures and free-of-charge exhibitions in different locations in Warsaw
Co-organizers are the National Polish Bank, the National Museum in Warsaw and Krakow, the Royal Castle in Warsaw, and the Polish Numismatic Society. The City of Warsaw is also engaged in the promotion of the Congress.
More about the Congress: https://inc2022.pl/